Buffalo Chicken Enchiladas
Turn your buffalo chicken skills up a notch with these spicy enchiladas! They're the perfect dish for game day, and simple enough for a cozy weeknight meal.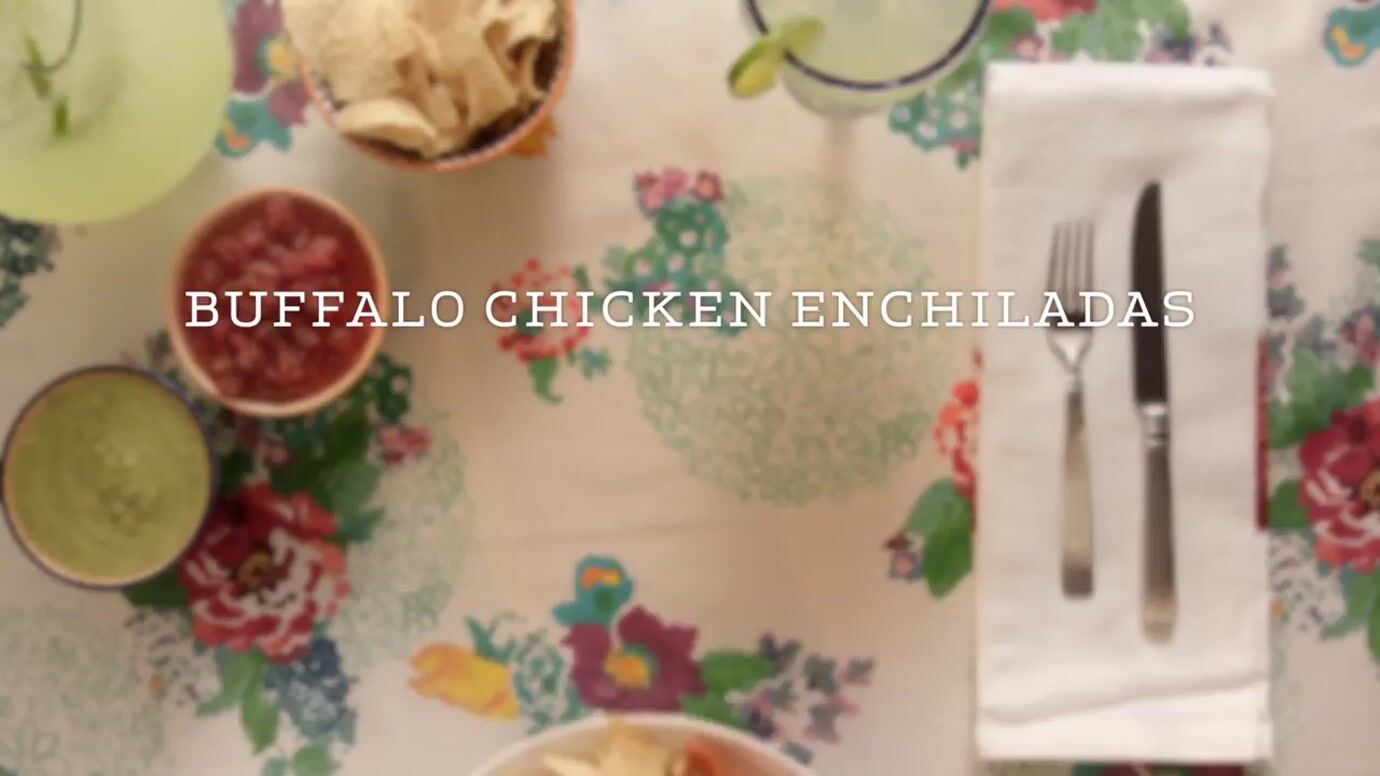 Ingredients
Enchiladas
3 cups rotisserie chicken, shredded
2 ½ cup buffalo sauce, or make your own (recipe below)
8 ounces cream cheese, softened
¾ cup hot sauce (Frank's, Louisiana, or similar)
3 cups white cheddar cheese, grated or shredded
½ cup blue cheese
¼ cup ranch dressing
8 8" flour tortillas
½ cup flour tortillas
½ cup green onions, chopped
Buffalo Sauce (Optional)
1 cup hot sauce (Frank's or similar)
1 cup tomato sauce
3 tablespoons unsalted butter
2 teaspoons white vinegar
¼ cup ranch dressing, plus more for drizzle
Directions
Buffalo Sauce
In a medium sauce pan melt butter.
Add hot sauce, tomato sauce, and vinegar, and simmer over medium low heat, stirring until combined.
Remove from heat and stir in ranch dressing.
Enchiladas
Preheat oven to 400° F.
In a medium bowl, combine chicken, cream cheese, and hot sauce.
Spread ½ cup of buffalo sauce in the bottom of a 9x13" stoneware baking dish.
Working one at a time, spread ¼ cup of the filling onto a tortilla and sprinkle with cheddar cheese and green onion.  Roll the tortilla up and place seam side down in the baking dish.
Repeat until the baking dish is full. Pour the remaining sauce over the top of the enchiladas.
Sprinkle remaining cheddar and blue cheese.  
Bake enchiladas for 15-20 minutes.  
Drizzle with ranch and sprinkle with sliced green onion to serve.
Recommended recipes you might like