Creamy Garlic Herb Chicken
Chicken thighs are an easy weeknight win: tons of flavor and a cinch to prepare. This recipe calls for making a creamy garlic pan sauce to spoon over the chicken and topping it with lots of fresh herbs.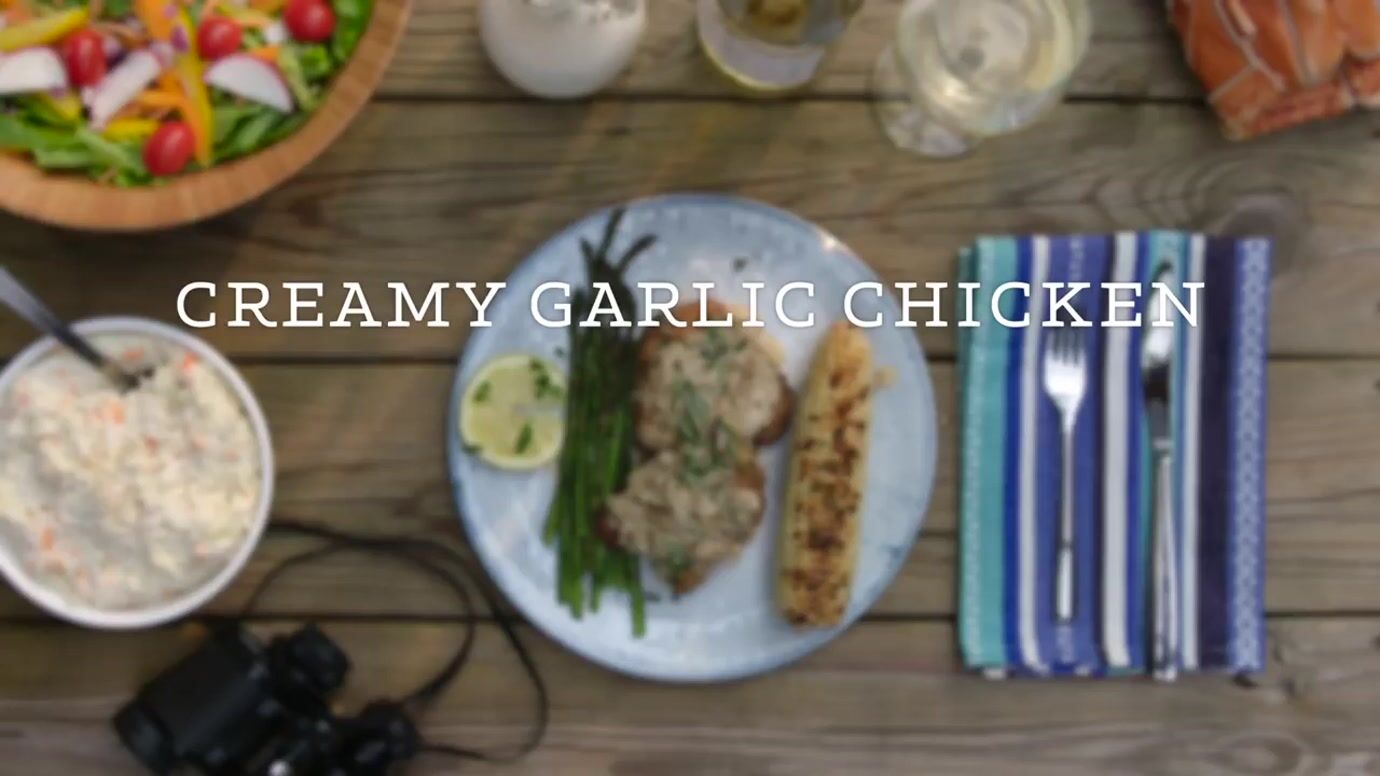 Ingredients
Chicken Thighs
4 chicken thighs, bone-in, skin-on
1 tablespoon cornstarch
½ teaspoon salt
½ teaspoon pepper
¼ teaspoon garlic powder
1 tablespoon olive oil
Garlic & Herb Cream Sauce
2 cloves garlic, minced
1 shallot, minced
¼ teaspoon red pepper flakes
1 cup chicken stock
2 sprigs rosemary, plus more for garnish
2 sprigs thyme, plus more for garnish
2 tablespoons unsalted butter
½ cup heavy cream
Directions
Preheat oven to 425 degrees Fahrenheit. Gradually heat cast iron pan to medium-high heat for 4-5 minutes while you prep chicken.
Pat chicken dry with paper towels and place in a medium bowl. Toss with salt, pepper, and garlic powder, then sprinkle both sides with cornstarch.
Add 1 tablespoon of olive oil to preheated pan. Place chicken in

Cast Iron Pan

 skin side down and cook 4-5 minutes until golden brown. 
Flip chicken and place in the preheated oven. Cook for 15 minutes or until golden brown and cooked through. 
Remove chicken from the pan and place the pan with the drippings over medium heat. Add minced garlic, shallot, and red pepper (optional) to the pan and sauté for 1-2 minutes. Add unsalted butter and allow to melt. Add rosemary, thyme, and chicken broth. Simmer for 5 minutes. 
Reduce heat to medium-low and stir in heavy cream. Allow pan sauce to simmer for 7-10 minutes until thickened. Place chicken thighs back in pan.
Spoon the creamy garlic sauce over the chicken for serving, add salt and pepper to taste, and garnish with fresh herbs.
To cook this recipe on the grill, heat one side of your grill to medium-high and follow steps 1-3 above using the grill instead of the stovetop. Slide pan to cool side of grill and close the lid. Cook for 15 minutes or until golden brown and cooked through. Remove chicken from pan and continue with steps 5-7.
Recommended recipes you might like