Tips & Tricks
How to Cook Salmon in a Pan 
Pan seared salmon is a versatile and delicious dish that's easier to master than you think. The high fat content in salmon makes it a great choice for beginners because it's forgiving and won't dry out easily. When the filet hits the pan, it develops a crisp outer texture with a flakey and juicy interior. We think salmon tastes great with simple ingredients like lemon and butter, but you can easily adapt the marinade to your taste. Pair your salmon with veggie stir fry or grilled watermelon salad.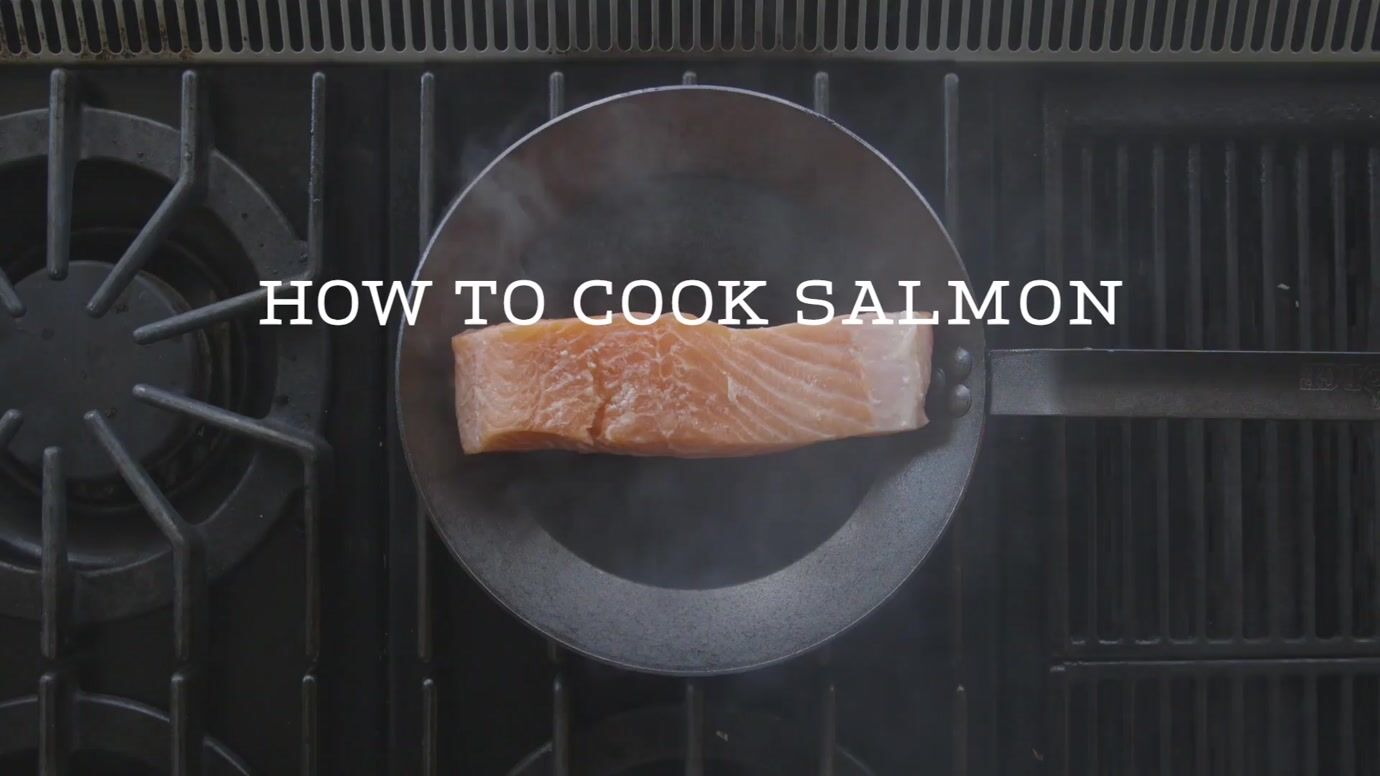 Let's break it down one more time! 
Prep
Melt butter and add lemon to make the marinade. Use paper towels to pat dry the fillet and then brush with the butter and lemon. The acidity in the lemon juice and salt brighten the salmon's flavor while ensuring the fish remains the star. Marinate for 30 minutes.
Heat
Preheat your oven to 300 degrees F and preheat your carbon steel on the stovetop to just above medium. There's a wide range of opinions on what temperature you should bake your salmon. Getting a good sear on the stovetop helps promote flavor, while a lower heat setting will help ensure the fish doesn't dry out in the oven. Ultimately, the temperature and cook time can be adjusted to the desired doneness of the filet. We like to use an instant read thermometer to make sure we get our fish to the right temperature.
Test
You can test to see if the pan is hot enough by sprinkling with a couple drops of water. At the right temperature, the water will dance on the surface, instead of evaporating instantly.
Sear
Coat the cooking surface with butter or oil. Sear salmon for two minutes, skin side down first. Flip, sear three more minutes. Peel the skin away if desired and brush filet with leftover marinade. Flip, and sear for one more minute for medium-rare to medium.
Bake
For medium well to well-done, bake for two additional minutes in the oven.
Not sure what to pair with your salmon?
Try a few of our favorite side dishes: 
Get $10 off any $50+ order!*
While you're shopping, become a Pan Fan today and sign up for our newsletter!
*Coupon code will be sent to your email after you sign up for our newsletter! New sign ups only.
By submitting your information, you are agreeing to Lodge Cast Iron's Terms of Use and Privacy Policy.
Please try again.