Experience the ultimate culinary journey.
Triple seasoned
— Three layers of seasoning for a natural, nonstick finish
— Exceptional flavor and simplified cleanup

Lightweight cast iron
— Proprietary recipe of iron, cast thin
— Reinvented to lift, carry, and handle with ease
Durable craftsmanship
— Quality cookware that's trusted to last for generations
— Extended, raised handles add comfort and stay cooler longer
Unparalleled versatility
— Resilient and adaptive cookware
— Use on any stovetop, oven, grill, or open flame
Shop Blacklock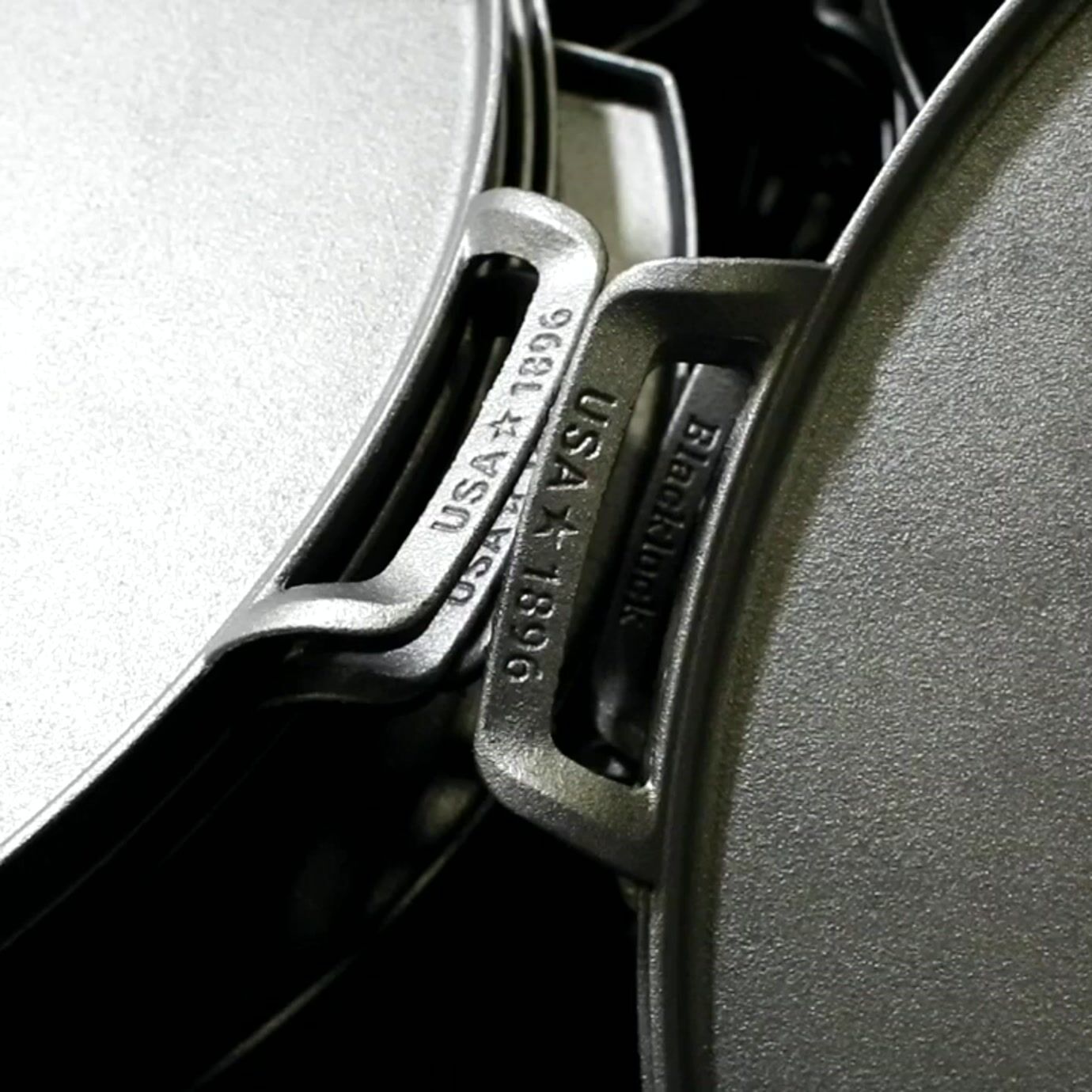 Each piece of Blacklock has been linked to a date in Lodge history. Cast into the iron, these dates serve as reminders of our roots. As we introduce the revolutionary new Blacklock line, we hold our past close to our hearts and look ahead toward the future.
Join us as we adventure through three centuries to tell the story of the original Lodge Foundry.
Blacklock *63*
Blacklock *96*
Blacklock *10*
Blacklock *39*
Blacklock *65*
Blacklock *77*
Blacklock *02*
Blacklock *49*
Blacklock *17*
Great food leads to great memories.
Gather the family around the table to share delicious entrees, sweet desserts, and more. Just like Blacklock, these mealtime moments will last a lifetime.
Cleaning & Care
Take care of your Blacklock triple seasoned cast iron.
Take care of your Blacklock cast iron
Step 1
Wash
by hand. Use a small amount of soap, as needed.
---
Step 2
Dry
thoroughly with a lint-free cloth or paper towel.
---
Step 3
Oil
the surface of the pan with a very light layer of cooking oil while warm.
---
Get $10 off any $50+ order!*
While you're shopping, become a Pan Fan today and sign up for our newsletter!
*Coupon code will be sent to your email after you sign up for our newsletter! New sign ups only.
By submitting your information, you are agreeing to Lodge Cast Iron's Terms of Use and Privacy Policy.
Please try again.